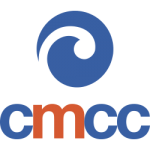 The Euro-Mediterranean Center on Climate Change (CMCC)  is a non-profit research institution based in Italy.
The Mission
CMCC's mission is to investigate and model our climate system and its interactions with society to provide reliable, rigorous, and timely scientific results to stimulate sustainable growth, protect the environment, and to develop science driven adaptation and mitigation policies in a changing climate.
The Values
CMCC is committed to scientific integrity and independence, to foster scientific progress and innovation.
CMCC is committed to inform and facilitate the dialogue between scientists, decision makers, and the general public to support decisions and actions for the benefit of society and the environment.
CMCC is committed to encourage discipline convergence to promote new and creative ideas and to ensure that environmental observations, analyses, predictions, and services effectively meet the needs of society.
CMCC is an equal opportunity employer, actively promoting diversity in the workplace.
CMCC is a non-advocacy institution.