RFF- CMCC- EDITS webinar – Stefan Pauliuk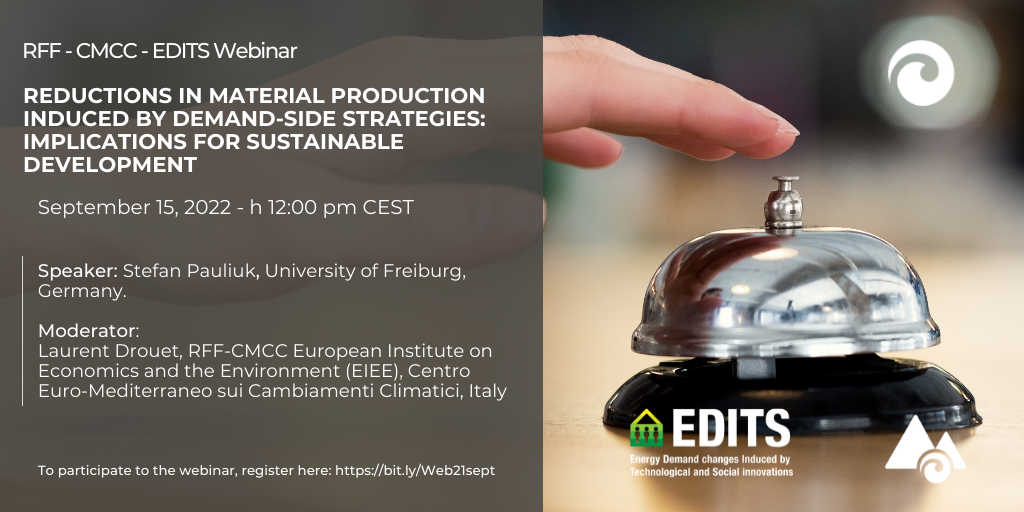 Speaker: Stefan Pauliuk, University of Freiburg, Germany. 
Moderator: Laurent Drouet, RFF-CMCC European Institute on Economics and the Environment (EIEE), Centro Euro-Mediterraneo sui
Cambiamenti Climatici, Italy
Title: Reductions in material production induced by demand-side strategies: Implications for sustainable development
Abstract: Growing in-use stocks of materials in the technosphere are essential for further human development, especially in emerging economies, but also for the energy transition and digital transformation in the Global North. At the same time, growing in-use stocks are a major obstacle for a circular economy and they are major drivers of environmental destruction and GHG emissions from material production from primary resources.
Demand-side solutions from efficiency and sufficiency strategies can lead to reduced need for new products and thus new materials. I
present modelling results for the LED scenario (Grubler et al. 2018) for the impact of demand-side strategies for passenger vehicles and buildings on material production and related GHG emissions. I will explain the data and assumptions that went into our scenarios and
point out the shortcomings of the modelling approach used. The discussion can then focus on approaches for consistent and inter-disciplinary low demand modelling of industrial output and material production, in particular.