RFF – CMCC – EDITS Webinar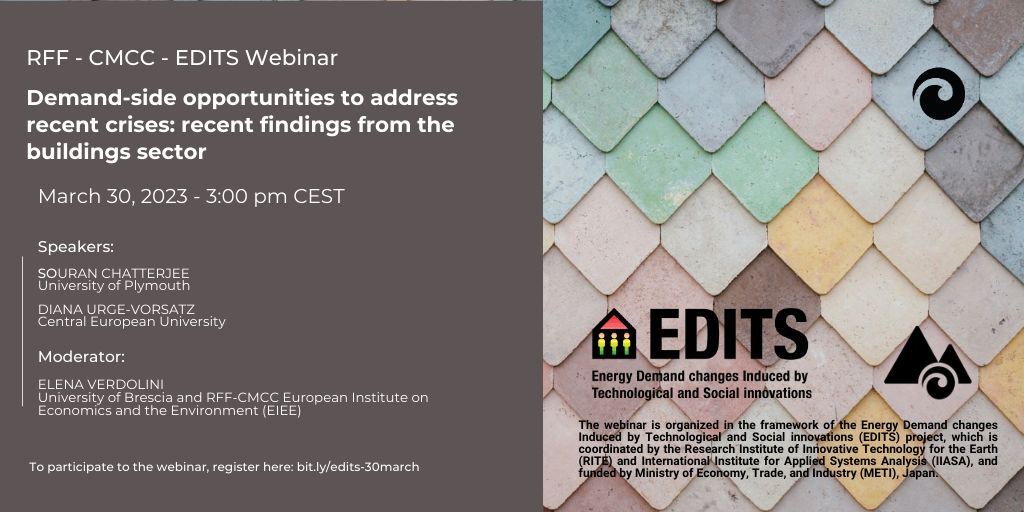 Demand-side opportunities to address recent crises: recent findings from the buildings sector
Speakers: SOURAN CHATTERJEE, University of Plymouth, and DIANA URGE-VORSATZ, Central European University
Moderator: ELENA VERDOLINI, University of Brescia and RFF-CMCC European Institute on Economics and the Environment (EIEE)
Abstract: Disruptions and crises pose major hardship for humanity, the provisioning systems, and the ecosystem. At the same time, these non-linear events also provide unique opportunities for accelerating the energy transition, while addressing the challenges of the crises themselves. Yet, it has been shown that very little of the opportunities to restructure the energy demand system due to the pandemic have been taken advantage of. Similarly, the discourse on response measures to recent crises (COVID-19, energy security problems in Europe, civil disorder, energy market and price volatilities, cost of living shocks, etc.) miss or at least under-emphasize key potentials to rethink how societal longer-term goals of universal wellbeing within the planetary boundaries could be reached.
The presentation will highlight the key opportunities through which crisis response strategies can mitigate the impacts of current and future crises while accelerating our progress towards climate mitigation targets through demand-side measures. With a stronger focus on the demand-side (and distributed renewables) related measures, harnessing and piggy-backing on changes brought by these crises (e.g., energy price hikes, pop-up infrastructure), policies can achieve a broader spectrum of benefits (e.g., jobs, health, pollution reduction, energy security, equity). Focusing particularly on the buildings sector will allow to mitigate the burden of these disruptions on households and economies in a better way than many of the currently popular supply-side response measures. In particular, demand-side measures are also ideally fit to combat the acute energy price crisis and ensuing inflation, making them key for creating just energy transitions.
The webinar is organized in the framework of the Energy Demand changes Induced by Technological and Social innovations (EDITS) project, which is coordinated by the Research Institute of Innovative Technology for the Earth (RITE) and International Institute for Applied Systems Analysis (IIASA), and funded by Ministry of Economy, Trade, and Industry (METI), Japan.
The event will be online only.