RFF-CMCC-LOCALISED Webinar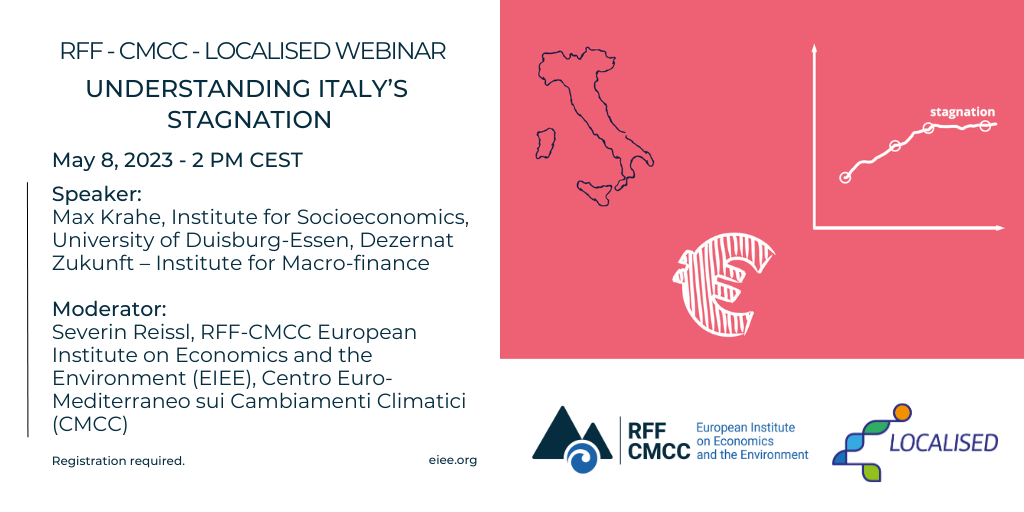 UNDERSTANDING ITALY'S STAGNATION
Speaker: Max Krahe, Institute for Socioeconomics, University of Duisburg-Essen, Dezernat Zukunft – Institute for Macro-finance
Moderator: Severin Reissl, RFF-CMCC European Institute on Economics and the Environment (EIEE), Centro Euro-Mediterraneo sui Cambiamenti Climatici (CMCC)
Abstract: Italy's economic stagnation is a matter of fiscal, national, and European concern. Since a good remedy requires an accurate diagnosis, this paper summarises, compares, and evaluates the main explanations for this stagnation. After describing Italy's recent economic record, the paper reviews three families of explanations: "unwillingness to reform" accounts, monetary integration accounts, and accounts that prioritise the firm-level perspective. Concluding that, taken by themselves, none of them provide a fully convincing account, a synthesis of their most promising elements follows. While the paper does not develop proposals for a new reform mix, its diagnosis implies that any credible reform package must tackle the deep roots of Italy's stagnation, without repeating the investment-suppressing mistakes of the last 30 years. In light of this, positive conditionality – i.e. conditions that unlock additional resources, as with NextGenEU – with a focus on companies, institutions, and investment, may be a promising way forward.
Registration required: https://cmcc-it.zoom.us/meeting/register/tZYsfumgrTItH9Z-R6hrUa1qfuO3fGDHsDoP
Register in advance for this meeting: you will receive a confirmation email containing more information.