Webinar
RFF-CMCC Navigate Webinar Industry transformative change towards carbon neutrality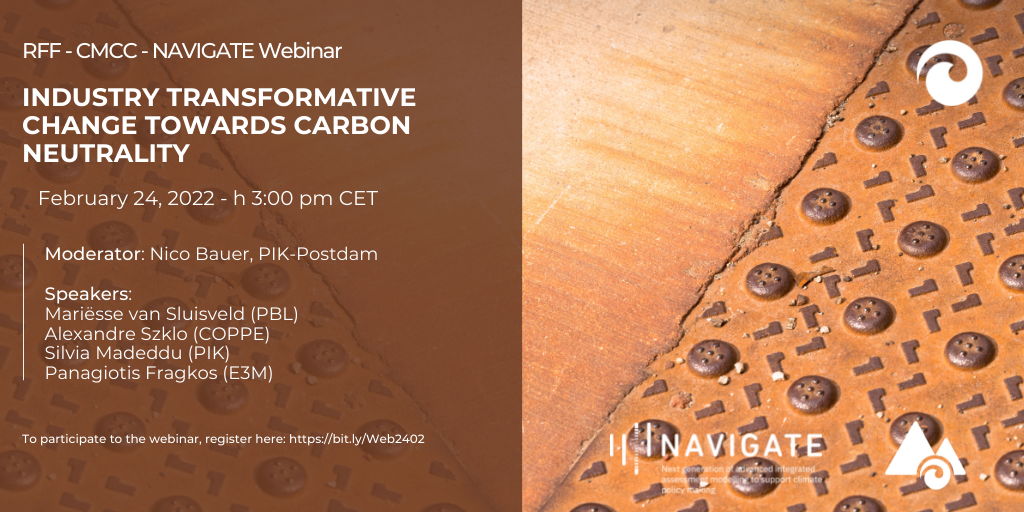 Title: RFF-CMCC-NAVIGATE Webinar – Industry transformative change towards carbon neutrality

Moderator: Nico Bauer (PIK)
Speaker 1: Mariësse van Sluisveld (PBL) – A race to zero – Assessing the position of heavy industry in a global net-zero CO2 emissions context
Speaker 2: Alexandre Szklo (COPPE) – The role of biomaterials for the energy transition from the lens of a national integrated assessment model
Speaker 3: Silvia Madeddu (PIK) – The CO2 reduction potential for the European industry via direct electrification of heat supply (power-to-heat)
Speaker 4: Panagiotis Fragkos (E3M) – Reducing the Decarbonisation Cost Burden for EU Energy-Intensive Industries
Abstract
Industry is the second largest emitting sector and is considered a hard-to-decarbonise one, due to its heavy reliance on fossil fuels to supply high-temperature heat and raw materials. A clear perspective on the viable decarbonisation pathways for heavy industries like steel, cement and chemicals, is needed to reach climate neutrality.
Task 2.4 of the NAVIGATE project, brings together seven research teams (PIK, E3M, IIASA, PBL, COPPETEC, NTNU and JRC) in a joint effort to improve the modelling of this complex sector. The participants aim at achieving a deeper understanding of the technological transformations needed to reduce industrial emissions while providing insights on the economic and policy implications of this sector's transformative change.
The webinar presents the results of four studies published within the framework of task 2.4 thanks to the NAVIGATE funding support. The studies provide an overview of the possible decarbonisation pathways for industry in the context of a net-zero emissions world by 2050. They dive into specific low-carbon options and their decarbonisation potential, e.g. biomaterials and  electrification, and explore climate policies which can support industry transformation.
More info will be available soon.