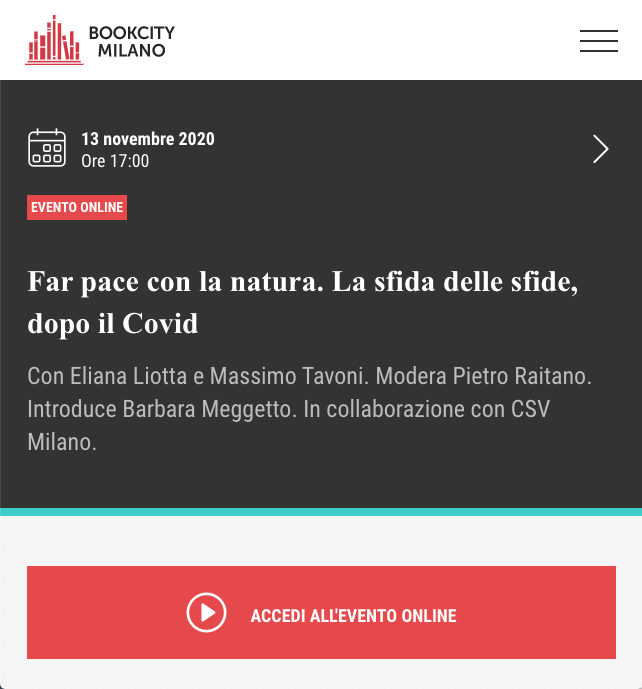 Local Time
Timezone:

America/New_York

Date:

Nov 13 2020

Time:

11:00 am - 12:00 pm
Next Event
Date

Nov 25 2020

Time

3:00 pm - 4:00 pm
Date
Nov 13 2020
Expired!
Time
5:00 pm - 6:00 pm
Labels
Webinar
Far pace con la natura. La sfida delle sfide, dopo il Covid
La natura ha cominciato a ribellarsi. Caldo estremo, uragani, piogge torrenziali, incendi, nuovi virus aggressivi come quello che ha segnato il mondo intero nel 2020. C'è un nesso profondo tra la diffusione di molte patologie infettive e i cambiamenti climatici, la deforestazione, l'inquinamento e anche la diseguaglianza sociale, perché povertà e fame sono alleati dei virus.
Eliana Liotta, giornalista scientifica, scrittrice a autrice del libro "La rivolta della natura".
Massimo Tavoni, professore ordinario di Economia del clima presso il Politecnico di Milano e direttore dello European Institute on Economics and the Environment.
Barbara Meggetto, presidente di Legambiente Lombardia.
Pietro Raitano, giornalista.
Maggiori info: https://bookcitymilano.it/eventi/2020/far-pace-con-la-natura-la-sfida-delle-sfide-dopo-il-covid