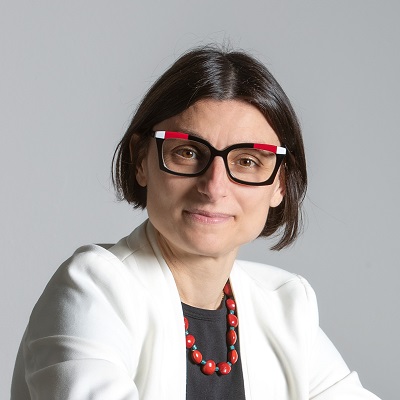 Senior Scientist
Elena Verdolini
Elena is Senior Scientist at EIEE where she leads the research area on Sustainable Innovation, and Professor in Political Economy at the Law Department, Università degli Studi di Brescia.
Elena Verdolini
Elena Verdolini is a climate economist. She is Professor of Political Economy at the Law Department, University of Brescia, and Senior Scientist at the RFF-CMCC European Institute on Economics and the Environment of the Euro-Mediterranean Center on Climate Change, where she leads the research group on "Sustainable Innovation and Digitalization". She is the principal investigator of the 2D4D "Disruptive Digitalization for Decarbonization" project, funded by the European Research Council through a Starting Grant, and the coordinator of the AdJUST "Advancing the understanding of challenges, policy options and measures to achieve a JUST EU energy transition" funded by Horizon Europe. She was a Lead Author of the of the IPCC 6th Assessment Report, Working Group III. Elena holds a degree in Political Science from the University of Pavia, a Master of Public Administration and a Master of Arts in International Studies from the University of Washington, Seattle and a PhD in Economics and Finance of the Public Administration from the Catholic University of Milan. Her research interest includes the dynamics and drivers of innovation, adoption and transfer of energy-efficient and climate-friendly technologies; the role of digital technologies in the energy transition; and the economic and distributional implications of climate and energy policy.
Comparing expert elicitation and model-based probabilistic technology cost forecasts for the energy transition
Proceedings of the National Academy of Sciences , July 6, 2021 118 (27) e1917165118 - 2021
Systematic review of the outcomes and trade-offs of ten types of decarbonization policy instruments
Nature Climate Change , Published 18 January 2021 - 2021
Measuring Environmental Policy Stringency: Approaches, Validity, and Impact on Environmental Innovation and Energy Efficiency
Energy Policy , Volume 136, 111052 - 2020
Robust multivariate analysis for mixed-type data: Novel algorithm and its practical application in socio-economic research
Socio-Economic Planning Sciences , 23 June 2020, 100907 - 2020
Technology innovation system analysis of decarbonisation options in the EU steel industry
Energy , Volume 212, 1 December 2020, 118688 - 2020
Bridging the gap: do fast reacting fossil technologies facilitate renewable energy diffusion?
Energy Policy , Volume 116, May 2018, Pages 242-256 - 2018
The Future Prospects of Energy Technologies: Insights from Expert Elicitations
Review of Environmental Economics and Policy , Volume 12, Issue 1, 1 February 2018, Pages 133–153 - 2018