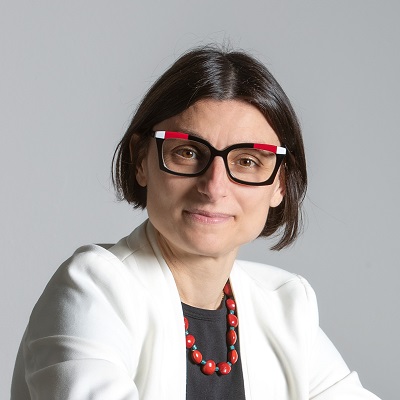 Senior Scientist
Elena Verdolini
Elena is Senior Scientist at EIEE where she leads the research area on Sustainable Innovation, and Professor in Political Economy at the Law Department, Università degli Studi di Brescia.
Elena Verdolini
Elena is Senior Scientist at EIEE and Professor in Political Economy at the Law Department, Università degli Studi di Brescia. Elena is a Lead Author of the 6th Assessment Report of the IPCC in Working Group III and the Principal Investigator of 2D4D "Disruptive Digitalization for Decarbonization" project, a 5-year European Research Council Grant. She has been involved in several internationally funded research projects (INNOPATHS, CD-LINKS, ENTRACTE, ICARUS among others).
Elena holds a degree in Political Science from the University of Pavia, a Master of Public Administration and a Master of Arts in International Studies from the University of Washington, Seattle and a PhD in Economics and Finance of the Public Administration from Università Cattolica del Sacro Cuore, Milan.
Her main interest is in applied analysis, with a focus on the dynamics of innovation, technology transfer, green growth, and the economic and social impacts of environmental and energy policies. Within 2D4D, she will research the energy and socio-economic implications of key digital technologies in three hard-to-decarbonize sectors: industry, transport and buildings.
Comparing expert elicitation and model-based probabilistic technology cost forecasts for the energy transition
Proceedings of the National Academy of Sciences , July 6, 2021 118 (27) e1917165118 - 2021
Systematic review of the outcomes and trade-offs of ten types of decarbonization policy instruments
Nature Climate Change , Published 18 January 2021 - 2021
Measuring Environmental Policy Stringency: Approaches, Validity, and Impact on Environmental Innovation and Energy Efficiency
Energy Policy , Volume 136, 111052 - 2020
Robust multivariate analysis for mixed-type data: Novel algorithm and its practical application in socio-economic research
Socio-Economic Planning Sciences , 23 June 2020, 100907 - 2020
Technology innovation system analysis of decarbonisation options in the EU steel industry
Energy , Volume 212, 1 December 2020, 118688 - 2020
Bridging the gap: do fast reacting fossil technologies facilitate renewable energy diffusion?
Energy Policy , Volume 116, May 2018, Pages 242-256 - 2018
The Future Prospects of Energy Technologies: Insights from Expert Elicitations
Review of Environmental Economics and Policy , Volume 12, Issue 1, 1 February 2018, Pages 133–153 - 2018