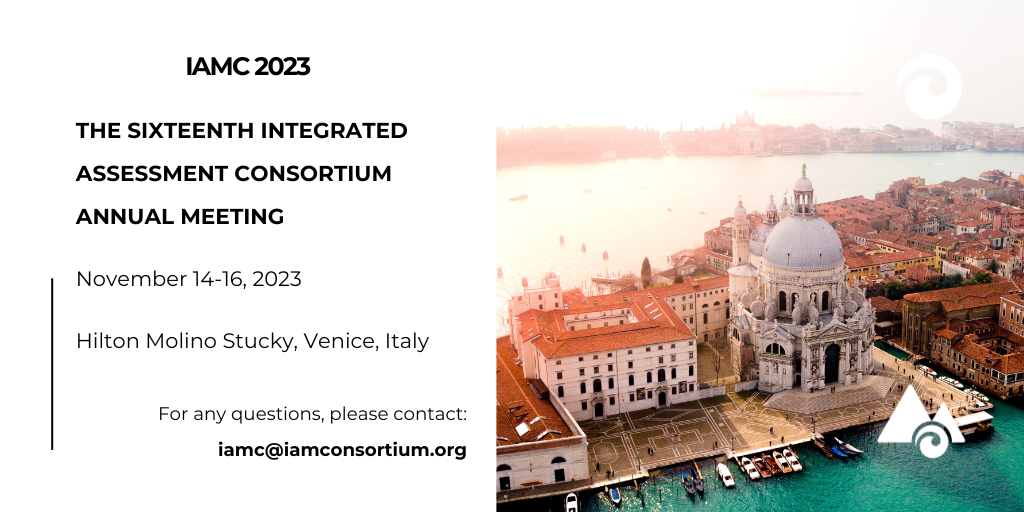 The Sixteenth IAMC Annual Meeting will take place on November 14th – 16th, 2023 at Hilton Molino Stucky, Venice, Italy.
The event will take place in person, with a portfolio of online events as part of the programme. Presentations in oral sessions (keynote sessions, and parallel oral sessions) will be held in person, with attendance both in person and online.
Two kinds of poster sessions are planned: fully online and fully in person. Presenters in fully in-person sessions can present their posters also at the fully online sessions if they wish so. In-person sessions will be organised following local time zone (CET). The IAMC will take steps to mitigate the inconvenience this may create for participants residing in regions with different time zones, for example by making session recordings immediately available to participants for a certain period of time.
Annual Meeting Purpose
The purpose of IAMC Annual Meetings is to:
present and discuss the state of the art in integrated assessment modeling;
review the status of ongoing community activities including both multi-model studies and the activities of the IAMC Scientific Working Groups;
facilitate interaction with collaborating communities;
evaluate and revisit the priorities of the integrated assessment community.
The IAMC Annual Meeting is a scientific meeting intended for peer sharing and vetting. The meeting is open to all registered participants. Researchers from organisations involved in integrated assessment modelling and their research collaborators are warmly encouraged to attend. The meeting is designed to allow researchers to share developments in methods, models and data. Participants are expected to be able to freely discuss their work.
Call for abstracts
The IAMC solicits abstracts for oral and poster presentations.
The deadline for abstracts submissions is July 7th, 2023.
Registrations
Registrations will open in September 2023 and will close on November 25th, 2023. Detailed information on the registration fee scheme is available here.
Information
For any questions, please contact the IAMC Secretariat at the Euro-Mediterranean Center on Climate Change (CMCC): iamc@iamconsortium.org.
More info on the website: https://www.iamconsortium.org/