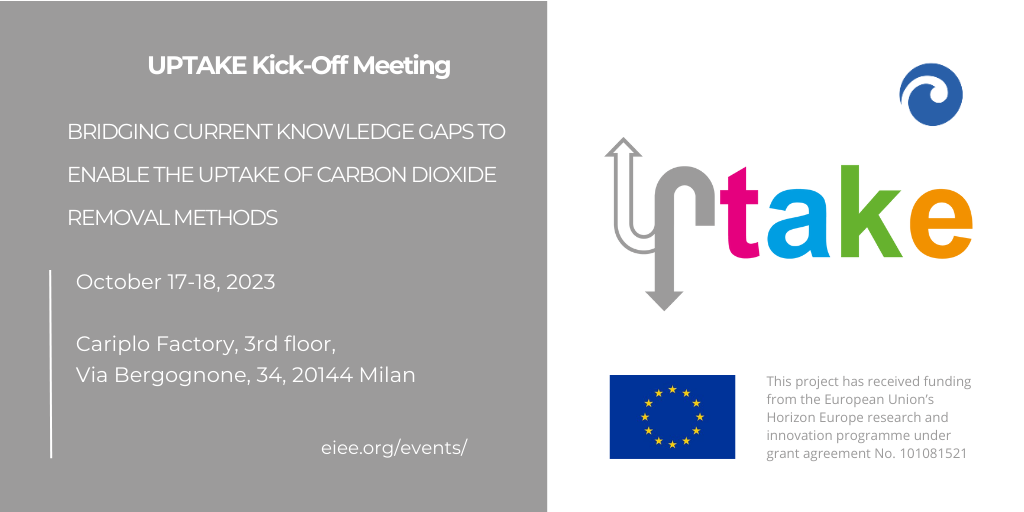 The UPTAKE Kick-off meeting will be held in Milan (hosted by the RFF-CMCC European Institute on Economics and the Environment) from the 17th to the 18th of October, 2023.
The research project is a Horizon Europe funded project and coordinated by the Foundation CMCC – Centro Euro-Mediterraneo sui Cambiamenti Climatici and will last 48 months from September 1st 2023 to October 31st 2027.
UPTAKE aims to develop resilient CDR strategies based on strengthened scientific evidence on the social, technological, economic, and environmental characteristics of CDR technologies and their interplay. The scientific evidence will be collated into a CDR knowledge inventory, openly accessible to the science, policy, business communities. Together with improved CDR modules in climate-energy models, a CDR roadmap explorer will be developed to help identify resilient and implementable CDR portfolios which enable net-zero strategies.
It will be an occasion to discuss Work Packages, present future actions, and set up the upcoming milestones, with the aim of creating synergies and cross-collaboration.
*Closed to the general public.