28th Annual Conference of the EAERE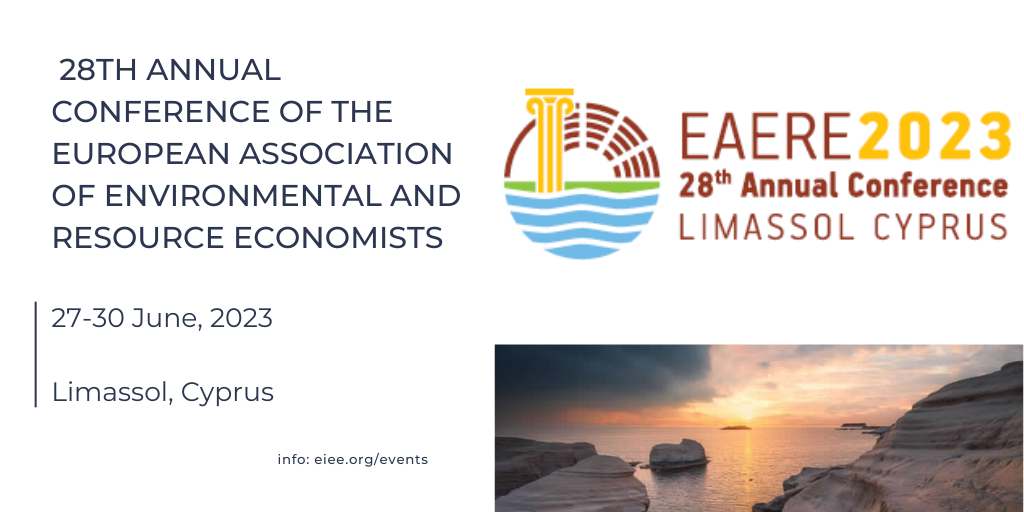 EIEE supports the 28th Annual Conference of the European Association of Environmental and Resource Economists (EAERE) which will take place from 27 to 30 June 2023 in Limassol, Cyprus.
The conference will take place in person in the coastal city of Limassol, one of the 100 European cities to receive EU support in achieving the goal of Climate-Neutral and Smart Cities by 2030. In addition, the conference will include some hybrid events as part of the programme.
The conference is organised by The Cyprus Institute, the Cyprus University of Technology and the Department of Economics of the University of Cyprus.
HIGHLIGHTS
June 29, 2023
EAERE Award for ERC Grants laureates | More info here
Awards Announcements | 10:00-10:30 am EEST Cyprus, UCT+3
Presentations by ERC grantees | 11:15am – 01:00pm EEST Cyprus, UCT+3
2023 Awardees:
June 29, 2023 | 14:30-16:15 EEST Cyprus, UCT+3
Policies to Enable Just Transitions: Building a Bridge between Research and Practice
This session will enable a deeper understanding of the challenges and drivers of the design and implementation of effective, politically feasible, and equitable decarbonization policies in the context of the energy and digital transition. It is organized as a roundtable dialogue among practitioners representing a wide set of stakeholders and academics from a wide variety of research backgrounds and methodological approaches. The chair of the session will provide guiding questions, with the aim of highlighting recent events and policy developments – particularly the COVID19 pandemic, the recent energy crisis, the Just Transition Fund and Just Transition Mechanisms within the broader context of the European Green Deal – the latest relevant research results, and fruitful avenues of research co-design among Just Transition experts.
Panelists:
Massimo Tavoni (CMCC Foundation, RFF – CMCC European Institute on Economics and the Environment)
Ioana Petrescu (Pur si Simplu Verde)
Jan Steckel (Mercator Research Institute on Global Commons and Climate Change)
Karin Küblböck (Austrian Foundation for Development Research)
Marion Dumas (London School of Economics)