Conference: INHALE final meeting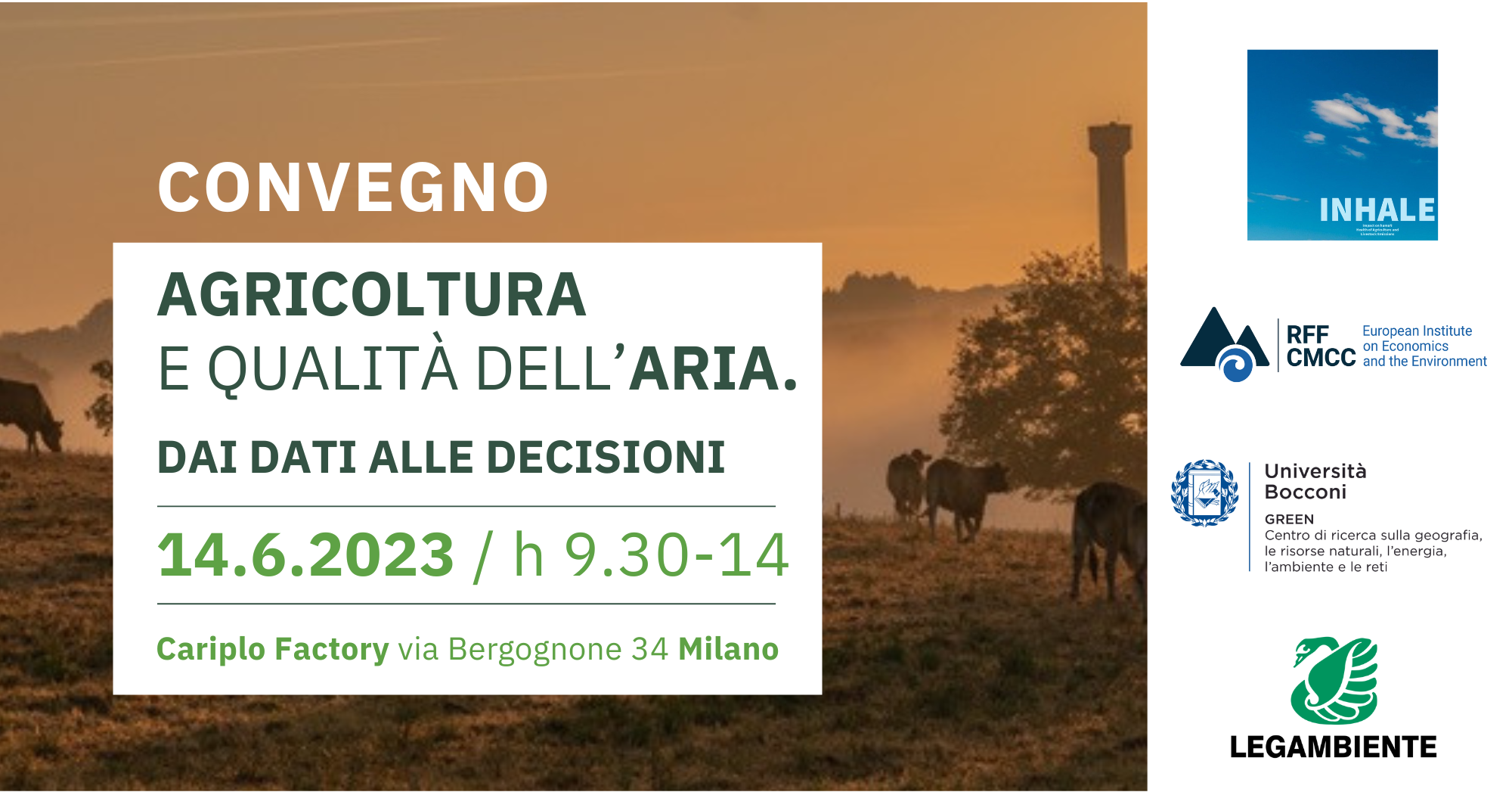 Agricoltura e qualità dell'aria: dai dati alle decisioni
On June 14, 2023, join us to hear about four Cariplo Foundation-funded projects and discuss the impacts of air pollution on the agricultural sector.
The conference "Agricoltura e qualità dell'aria: dai dati alle decisioni" will be in Italian and organized by CMCC, Legambiente and Bocconi University.
INHALE, a project coordinated by Centro Euro‐Mediterraneo sui Cambiamenti Climatici (CMCC), will be presented during the event.
It will be both online and in presence, through prior registration.
Agenda
9:30-9:40 | Saluti istituzionali
Benedetta e Terragni Matteo Barbato, Fondazione Cariplo
9:40-10:00 | Il progetto AgriAir
Marialuisa Volta, Università degli Studi di Brescia
10:00-10:20 | Il progetto INHALE
Lara Aleluia Reis, CMCC/Bocconi
10:20 – 10:40 | Il progetto Agrimonia
Michela Cameletti, Università degli Studi di Bergamo
10:40 – 11:00 | Il progetto D-DUST
Daniele Oxoli, Politecnico di Milano
11:00-11:15 | Pausa caffè
11:15-11:30 | EU Commission's Proposal to mitigate emissions from cattle, pigs and poultry as part of the revised Industrial Emissions Directive (English)
Michael Bennett EC DG Environment
11:30-11:45 | Un modello sostenibile e a basse emissioni per il distretto agricolo e zootecnico
Maria Vincenza Chiriacò, CMCC
11:45-12:00 | Qualità dell'aria nel bacino padano: il contributo del progetto Prepair
Guido Lanzani, ARPA Lombardia
12:00-13:00 | Tavola rotonda con enti e istituzioni del settore: appunti per una strategia sostenibile
Valeria Sonvico, Coldiretti Lombardia; Giacomo Pirlo, CREA; Marco Paravicini, FederBio; Matteo Lazzarini, Regione Lombardia, Direzione Generale Ambiente e Clima; Damiano Di Simine, Legambiente Lombardia
Moderatore: Luca Carra, Scienza in Rete
13:00-14:00 | Pranzo leggero