COP 27 event | IPCC Session on Delivering a Sustainable Future: Feasibility and Policy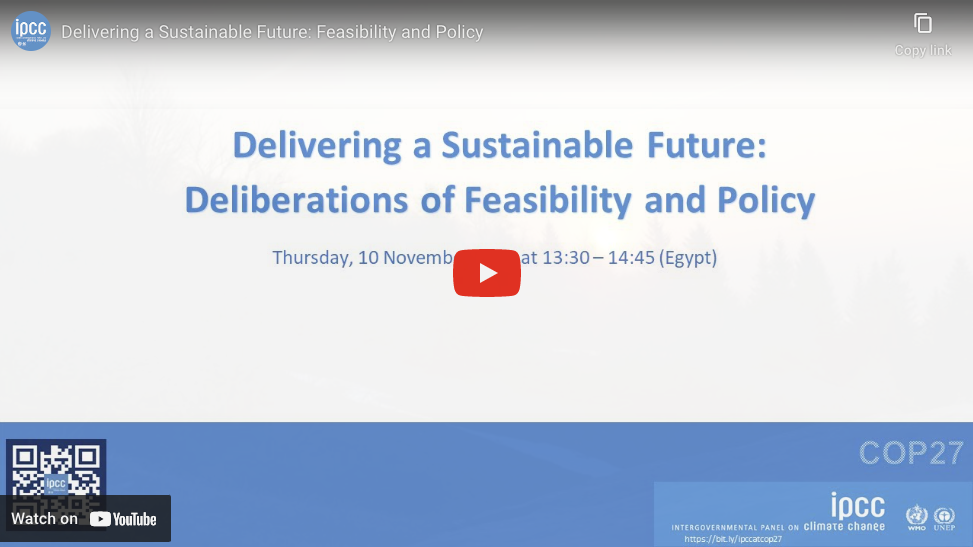 This session aims to look at the IPCC mitigation pathways and transitioning in the context of sustainable development. It will consider the policies, structures and institutions to realize such transitions.
Format: The event has been organized as a Panel session featuring short interventions/presentations before moving to moderator and audience questions.
Chair: Fatima Denton
Chair's assist: Shreya Some
h. 13:30 – Explanation from the moderator of what the session will cover and the format
Fatima Denton (WG III Coordinating Lead Author, Chapter 17)
AGENDA
h. 13:40 – How feasible are mitigation pathways and transitions?
Massimo Tavoni ( WG III Lead Author, Chapter 3) – Virtual Speaker
h. 13:50 – Transitions in the context of Sustainable Development
Minal Pathak (IPCC WG III TSU Senior Scientist)
h. 14:00 – Near-term policy to realise the transition: policy structure, carbon pricing, and distributional effects
Navroz Dubash (WG III Coordinating Lead Author, Chapter 15)
h. 14:10 – What have policies already delivered?
Michael Grubb (WG III Coordinating Lead Author, Chapter 1) –  Virtual Speaker
h. 14:15 – Questions from the floor
All speakers, moderated by Fatima Denton
Closing
h. 14:45 Closing remarks – Fatima Denton