SWEEEP Webinar series – 2022
A pan-institute Series of Webinars in Environmental and Energy Economics and Policy
Environmental, energy, and ecological problems have grown faster than their solutions. Economists have an important role to play to address these issues by using the latest science, rigorous methods and innovative policy solutions.
The SWEEEP webinar series aims to convene the academic community to contribute to the scientific, economic, and policy discourses on important environmental and energy issues.
---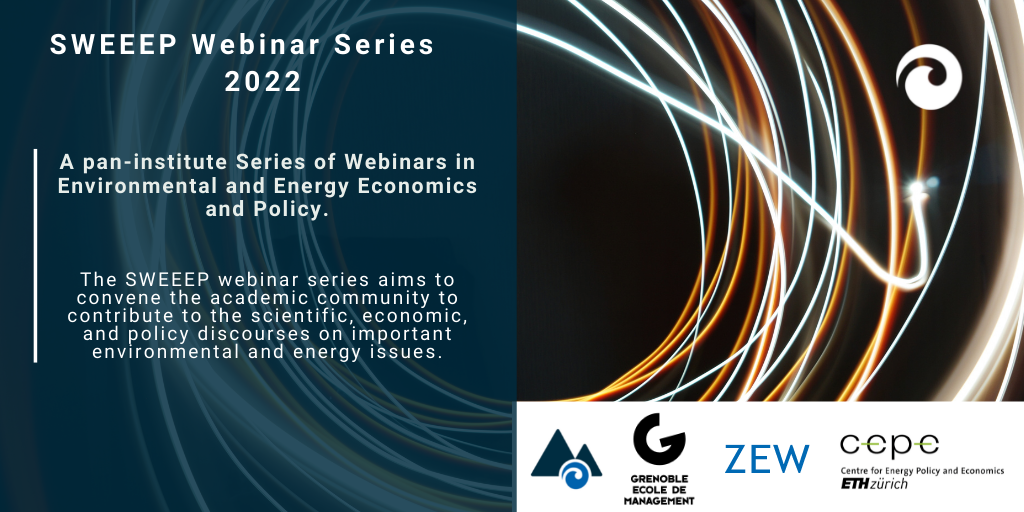 More info will be available soon.
2 March 2022
Speaker: Kelsey Jack, Associate Professor Bren School of Environmental Science and Management
Director, Poverty Alleviation Group Environmental Market Solutions Lab (emLab) University of California, Santa Barbara
Zoom link: https://grenoble-em.zoom.us/webinar/register/WN_sZQh4SX1RIW41LMxO9R3gw
30 March 2022
Speaker: Matto Mildenberger, Associate Professor of Political Science, University of California Santa Barbara
Title: How to get the public on board with climate reforms
27 April 2022
Speaker: Jessica Coria, University of Gothenburg
Title: Effects of the EU Chemical Regulation: Is there a Chemical Green Paradox?
4 May 2022
Speaker: Mirabelle Muuls, Assistant Professor in Economics at the Imperial College Business School
Title: Homeworking can be Net Positive, Evidence from the UK Lockdown during COVID-19
18 May 2022
Speaker: Erich Muehlegger, Associate Professor of Economics at the University of California
25 May 2022
Speaker: Knut Rosendahl, Professor School of Economics and Business, Norwegian University of Life Sciences
21 September 2022
Speaker Florian Oswald, Sciences Po University.
26 October 2022
Speaker Rohini Pande, Yale University.
16 November 2022
Speaker James Sallee, UC Berkley.