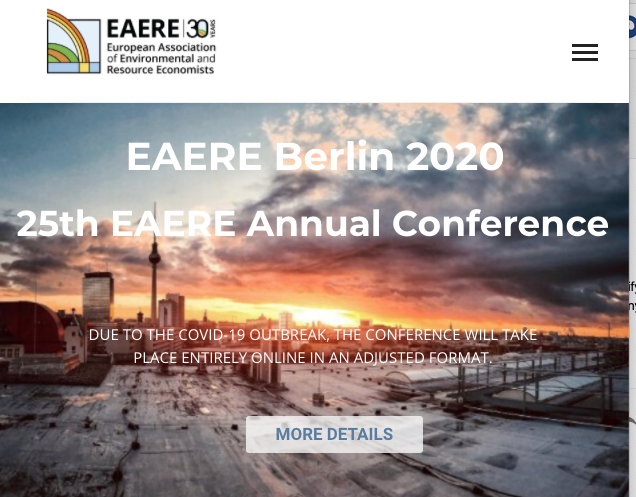 Local Time
Timezone:

America/New_York

Date:

Dec 31 1969

- Jun 26 2020

Time:

All Day
Date
Jun 24 2020
- Jun 26 2020
Time
All Day
EAERE Conference – remote
25th Annual Conference of the European Association of Environmental and Resource Economists – online in 2020. Due to the corona virus outbreak the city government of Berlin has decided that all physical events at universities have to be cancelled until the end of July. Therefore EAERE together with the PC and LOC decided to hold this year's conference as a virtual event.
The conference is organized by Technische Universität Berlin and Humboldt-Universität zu Berlin (HU Berlin). The conference is supported by the wider Berlin research community in environmental and resource economics, most notably by the German Institute for Economic Research (DIW Berlin), and Mercator Research Institute on Global Commons and Climate Change (MCC). The organization of the conference is also supported by the Berlin Chamber of Commerce and Industry (CCI).
http://www.eaere-conferences.org/index.php?y=2020
EIEE holds the General Secretariat of EAERE
EIEE researchers (Lara Aleluia, Johannes Emmerling, Yeong-Jae Kim, Soheil Shayegh, Elena Verdolini, Yu Zheng, Timothy Foreman) will participate in the event as presenters.