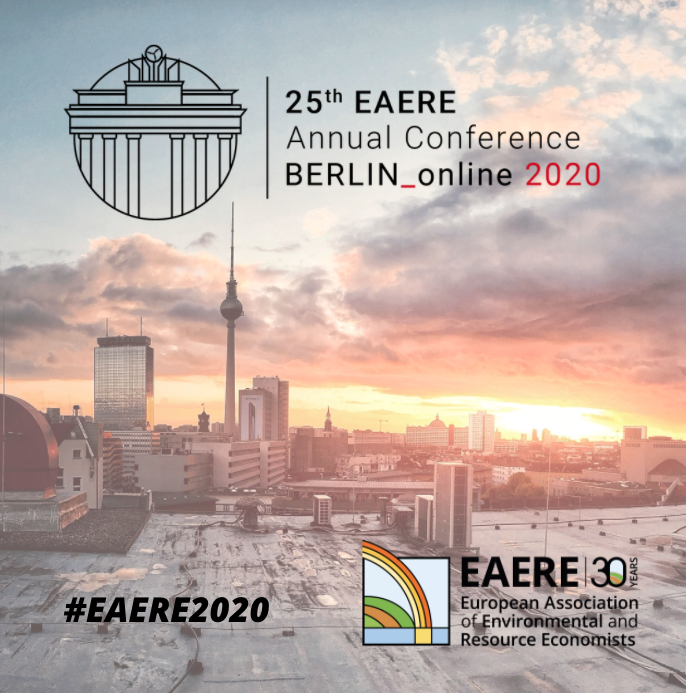 Local Time
Timezone:

America/New_York

Date:

Jun 24 - 27 2020

Time:

All Day
Date
Jun 24 - 27 2020
Expired!
EAERE Conference – remote
25th Annual Conference of the European Association of Environmental and Resource Economists – online in 2020. Due to the coronavirus outbreak, the city government of Berlin has decided that all physical events at universities have to be cancelled until the end of July. Therefore EAERE together with the PC and LOC decided to hold this year's conference as a virtual event.
The conference is organized by Technische Universität Berlin and Humboldt-Universität zu Berlin (HU Berlin). The conference is supported by the wider Berlin research community in environmental and resource economics, most notably by the German Institute for Economic Research (DIW Berlin), and Mercator Research Institute on Global Commons and Climate Change (MCC). The organization of the conference is also supported by the Berlin Chamber of Commerce and Industry (CCI).
You must be logged in to see the programme.
http://fleximeets.com/eaere2020/?p=home
---
26 June 2020, h 15:00 PM Local Time
A Semi-plenary – Joint RFF-CMCC-EDF Policy Session on "Policies to support workers and communities in the transition to clean energy economies in the US and the EU".
---
27 June 2020, h 11:00 AM Local Time
A special session is dedicated to this year's winners of the EAERE Award for ERC Grants laureates in the field of environmental and resource economics. Each of the ERC laureates will present on their current and future research, as well as offering insights into the application process.
---
Thursday 25 June 
EIEE researchers will present the following papers:
Lara Aleluia Reis, Laurent Drouet, Massimo Tavoni – Optimal Global Cost-Benefit Analysis — Policies that save lives 
Lorenza Campagnolo, Enrica De Cian – Distributional implications of climate change impacts on energy demand for Italian households
Johannes Emmerling , Paolo Gazotti, Giacomo Marangoni, and Massimo Tavoni – DICE at the (almost) country level: Growth impacts and inequality in RICE+
Timothy Foreman – The Effects of Dust Storms on Economic Development
Yeong Jae Kim  – The benefits of international collaboration on energy innovation in South Korea
Soheil Shayegh, Elnaz Roshan – Green Capital and Green Jobs: a Fast Transition to Green Economy
Elena Verdolini, L. Nesta, and F. Vona. – Threshold Policy Effects and Directed Technical Change in Energy Innovation
Yu Zheng, Soheil Shayegh – Climate change, inequality, and wealth transfer: A case study of Uganda
More info will be available soon.