ONGOING
2D4D
Disruptive Digitalization for Decarbonization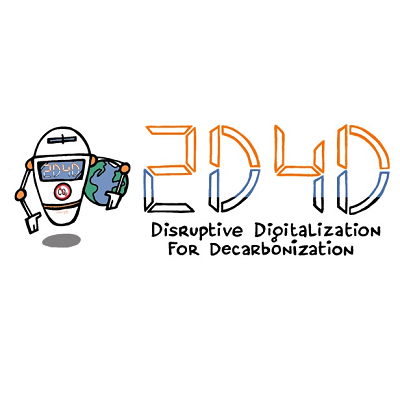 2D4D is an European Research Council (ERC) grant awarded to Elena Verdolini. The project aims at ensuring that the digital transformation is not a barrier to decarbonisation, rather an enabler. The project will identify and measure the decarbonisation consequences of three disruptive digitalisation technologies in hard-to-decarbonise sectors: additive manufacturing in industry, mobility-as-a-service in transportation, and AI in buildings. The project will produce a distinctive data collection to examine the technical and socioeconomic potential of these technologies, enhance decarbonisation narratives and ensure that digital technology supports energy transition
General Objectives
The 2D4D project aims to advance the frontier of knowledge by linking the academic and policy debates around decarbonization and digitalization. The project will rely on complementary, mixed-method approaches to provide much-needed, sound, well-rounded answers to these questions to address three specific research gaps:
Research gap 1: What are the socio-economic impacts of digitalization in hard-to-decarbonize sectors of the economy and society?
Research gap 2: How should decarbonization narratives, scenarios and pathways be augmented to account for the disruptive impact of digital technologies on energy demand, economic growth and social development?
Research gap 3: How should decarbonization policies and portfolios be designed to account for disruptive digitalization, thus ensuring they are robust and represent "no-regret" options?
Expected Results
2D4D will:
improve the understanding of how technical aspects of digital technologies affect future energy demand both in business-as-usual scenarios and in the presence of climate policies;
pioneer the combination of a bottom-up understanding of sectoral-specific digitalization dynamics with macro-economic modelling to ensure a detailed yet integrated understanding of the socio-economic implications of the digital revolution;
combine qualitative and quantitative methods (e.g. data analysis, modelling, surveys and expert elicitations) to produce the largest collection of parameters and variables describing future decarbonization trends in industry, transportation and buildings;
enhance decarbonization narratives (i.e. Shared-Socioeconomic Pathways) and Integrated Assessment Models (IAMs) by including digitalization dynamics, and generates "AI-cognizant" decarbonization pathways;
identify no-regret policy portfolios jointly supporting the digital and energy transformations.
Project Info
Funded by
European Commission, H2020 ERC Starting Grant
Start Date
01 October 2020
End Date
30 September 2025
Duration
60 months
Website